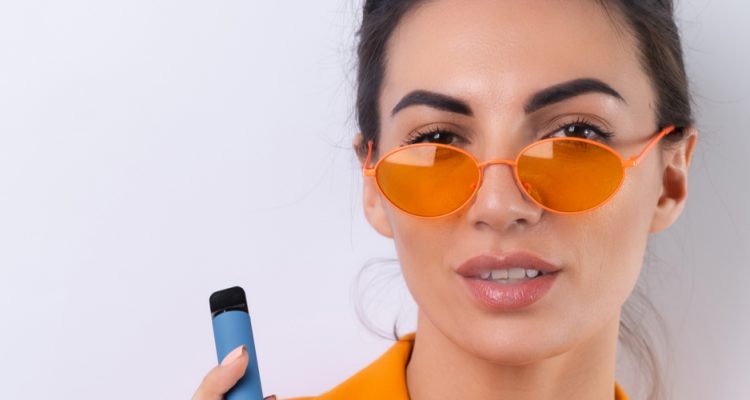 Vaping: An examination of the facts
1 March 2022
This article, by Dr Amanda Phoon Nguyen, was first published in the March 2022 issue of the ADA's News Bulletin
Electronic cigarettes or vapes are battery powered devices that deliver nicotine and/or other substances in a vapour with or without tobacco or smoke. Its use is commonly known as 'vaping'. While the premise is similar, there are now four generations of e-cigarettes with differences in shape, size and prices. These are operated by a battery that generates an electrical current which ignites a filament located on an atomiser, which in turn evaporates liquid in a cartridge to produce an aerosol, which is then inhaled. The first generation of e-cigarettes resembled closely a conventional cigarette and fourth-generation devices, now commonly called vapes, have evolved to enable modifications, with different battery styles and shapes.
While not fully regulated, the Therapeutic Goods Administration has recently cracked down on imports of vapes and e-liquids. Unfortunately, it can only regulate some, and there are far fewer regulations around the manufacture and supply. The chemical flavour cocktails in the pods are not approved by the Therapeutic Goods Administration for human inhalation. As of 1 October last year, the TGA prohibited the importation of nicotine vapes without a doctor's prescription, but enforcement remains an issue. Despite this, vaping is common and purchasing kits are readily available online for as little as $30.
It is estimated that 1.2% of Australians now vape. While the premise for vaping was initially to reduce the use of conventional tobacco products and there is some evidence for their potential role as a smoking cessation aid, unfortunately, a considerable number of users are never-smokers or young people. A study in the US with 150,000 participants reported that 27% of individuals who have ever tried e-cigarettes continued to smoke at least once every 30 days. (1) Although there are likely fewer components inhaled when vaping as compared to conventional cigarette use, vaping is not harm free and concerns are growing about their health consequences, particularly in users who are not tobacco smokers, and also when used long term.
Of particular concern is the rising trend of vaping amongst teenagers. In 2021, the Australian Alcohol and Drug Foundation reported that one in six 12- to 17-year-olds had tried vaping, with 32% of those students vaping within the past month. This is believed to be due to misconceptions that it is safe, and also because the vapes and liquids are colourful, there are many liquid flavours and it all seems 'fun'. With a plethora of innocuously named flavours such as 'Chocolate Milk', 'Peach Mint Ice Tea' and 'Donut Caramel', and the rise in marketing campaigns for the devices on social media platforms such as TikTok, it is no wonder the worrying trend grows. Some schools have even installed vape detectors in their toilets on campus.
Some other common misconceptions around vaping are that:
– it is nicotine free. Liquids that claim to be nicotine free still can contain nicotine – which is especially harmful to the developing brain and addictive. While nicotine vaping products require a prescription, in a paper published in 2019, a group of Australian researchers studying 10 vaping liquids that were labelled 'nicotine free' found that nicotine was detected in six e-liquids. (2)
– it is safe. Besides yet unknown health risks, EVALI (E-cigarette or Vaping Associated Lung Injury) can be fatal. Battery-related issues may rarely lead to vape explosions and associated injury, which can be difficult to prevent due to a lack of strong and consistent safety standards.
Secondhand smoke can also be harmful, and chemicals from vape aerosols can transfer. Thirdhand smoke, where the residue from conventional or e-smoke gases and particles cling to nearby surfaces, can persist for minutes to months in indoor environments and on surfaces. Young children are especially vulnerable due to their crawling, hand-to-mouth and exploratory habits. Exposure to these residues can increase the risk for short-term and long-term health problems.
Effects on the oral cavity may include increasing the risk of dental caries, oral cancer, salivary gland hypofunction and periodontal disease. Epidemiological studies highlight additional potential concerns over oral irritation, xerostomia, and gingivitis. Interpreting data from vaping studies can be difficult, given the different populations that have been investigated and the continual emergence of new products and combinations. Salivary microbiome analyses show a possible difference in vape users as compared to non-smokers, although these results are not yet conclusive. Evidence of oral health effects from clinical trials remains limited.
What is in a vaping liquid?
Vaping liquids can contain harmful chemicals. The heating/cooling/ageing process can affect e-liquid chemical composition. The vape and heating coil can also degrade with time, leading to inhalation of heavy metals and microplastics. Nickel, tin, lead or chrome may be in the cartridge.
Curtin University respiratory physiologist Alexander Larcombe and team studied 65 common liquids used in vapes from local suppliers that are available in Australia. (3) They found that all e-liquids contained one or more potentially harmful chemicals, and none of the e-liquids were labelled with a comprehensive ingredient list.
Some of these included:
– Polycyclic aromatic hydrocarbons (PAHs)
The same strong carcinogens found in cigarettes. These have been linked to many types of cancer;
– Benzaldehyde A lung irritant which is added to vapes to give them flavour;
– Transcinnamaldehyde A lung irritant; and
– 2-chlorophenol Often used in pesticides and disinfectants. A known irritant to the skin and lungs.
Other vaping components include flavours which contain sucrose, sucralose, and ethyl maltol. The
vapour produced by vaping devices is thick and viscous and much of it is retained on oral tissues. Aerosols have been hypothesised to have similar physio-chemical properties as high-sucrose, gelatinous candies and acidic drinks. The combination of the viscosity of e-liquids and some classes of chemicals in sweet flavours may increase the risk of cariogenic potential.
Studies on the effects of vaping on health are limited and there is a lack of longitudinal data for their use due to their relatively short time on the market. More research is needed to understand how vaping really affects health, but in never-smokers who are not using vaping as a cessation aid, awareness should be raised about the potential harmful effects of vaping, and its effects should not be underestimated.