A dental crown and bridge are dental prosthetic devices fixed to existing teeth
A dental crown not only strengthens a tooths structure, it also improve a tooths appearance, shape, alignment and the jaws occlusion (the relationship between the maxillary (upper) and mandibular (lower) teeth).
Northshore Dental and Oral Health have implemented the new state-of-the-art technology CEREC. CEREC is short for Chairside Economical Restoration of Esthetic Ceramics.
By using advanced 3D technology the system can precisely colour match highly durable customised crowns. Don't visit the dentist a bunch of times, with our CEREC one-visit system; crowns can be applied in a single appointment that will only take around an hour and a half.
When would I need a dental crown?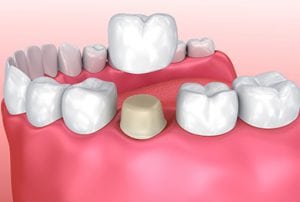 A dental crown covers your entire tooth, not just the top. A dental crown will sit snuggly over your prepared tooth and blend seamlessly with your remaining teeth. Crowns will be fabricated the same day to perfectly mimic the strength, shape and feel of a natural tooth.
Northshore Dental and Oral Health place crowns on patients of all ages to rebuild the internal stability of the tooth and to create a durable biting surface.
Some of the reasons you may require a crown include:
Cover discoloured, chipped or worn down teeth
Replace a large filling that isn't suitable
Stop further damage of a tooth i.e. cracking or fracturing
To anchor a bridge to replace a gap in your smile
After you have had root canal therapy
What is a dental bridge?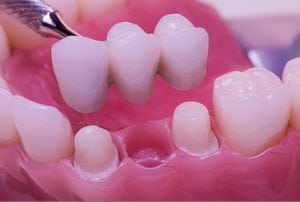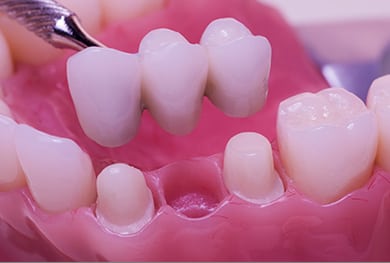 A dental bridge will 'bridge' a gap left in your mouth by missing teeth. It's generally comprised of 2 dental crowns and one or more false teeth fused together to create one long dental prosthetic appliance.
When the dentists at Northshore Dental and Oral Health place a bridge, the adjacent teeth are prepared for the crowns to sit over the teeth that will anchor the bridge in place. Dental bridges are not removable. To prevent a build up of bacteria and plaque it's essential you keep a good at-home oral hygiene routine.
Why is it important to replace missing teeth?
Each tooth plays a vital role in forming the structure of the mouth which has an important relationship to the remaining teeth. Leaving gaps in your mouth can cause a chain reaction to occur. The surrounding teeth will slowly begin to shift around your jaw and can often loosen.
Another serious risk of leaving gaps in your teeth is the loss of your jawbone. Over time this loss can cause an unappealing sunken appearance and can limit any options for restorative treatments.
If you have missing, injured or worn down teeth, contact the team at Northshore Dental and Oral Health to talk to one of our experienced dentists and see how they can help you.
In many cases, dental bridges can last upwards of ten years. If proper dental hygiene and maintenance is occurring, the bridge can last even longer. It's important to keep your remaining teeth strong and healthy as the success of your dental bridge relies on the health of your remaining teeth.
If the foundation and internal structure of the adjacent teeth are compromised, your dental bridge may fail.
To care for your dental crowns and bridges, brush twice a day and floss daily to help stop tooth decay and gum disease. These issues may lead to tooth loss.
The dentists at Northshore Dental and Oral Health can show you the correct way to properly brush and floss when you have a dental crown or bridge in place. Eating a balanced diet with fruit and vegetables is also recommended.
By attending regular check-ups the dentists are able to keep an eye on your teeth and diagnose problems early, when treatment has a better prognosis.
To find out more about dental crowns and bridges, or to book an appointment, contact the team at Northshore Dental and Oral Health today.
Our team is committed to giving patients affordable treatments with our easy, fast payment methods. Our practice has incorporated a range of payment plans including zipMoney MediPlan, GE Finance and also an in-house payment plan to ensure patients get high-class dental care when they need it. We also employ credit card facilities and have integrated a HICAPS machine meaning you get your private health rebate back on the spot, quickly and conveniently.