General health and wellbeing starts with your mouth
At Northshore Dental and Oral Health, we believe maintaining a healthy mouth is the best way to preserve your natural teeth. We use general dentistry treatments to mend teeth, making them function and look better. We insure every patient is educated around ways to keep their teeth healthy between check-ups.
Following a simple oral health routine of brushing, flossing, eating nutritious foods and making a regular 6-month visit to your dentist is a great way to achieve healthy mouth for years to come.
At Northshore Dental and Oral Health we offer the following general dental treatments:
Check-up and Clean
Fillings
Crowns
Bridges
Root canal surgery
How long does a dental check-up take?
At Northshore Dental we recommend a regular 6-month check-up routine.
This will all depend on the patient, as each individual is different and may require as shorter time frame as three months or a longer one of up to a year.
Speaking generally, if you have a low risk dental history you have a longer wait between check-ups, if you have a poor dental history your dentist may require more frequent visits. Regular dental check-ups can spot issues you may not even be aware of. Many dental issues may go unnoticed, if you present with pain or discomfort we recommend contacting us.
A dental check-up and clean will take approximately 30 minutes to an hour depending on the individual patient to properly perform and complete a dental cleaning procedure.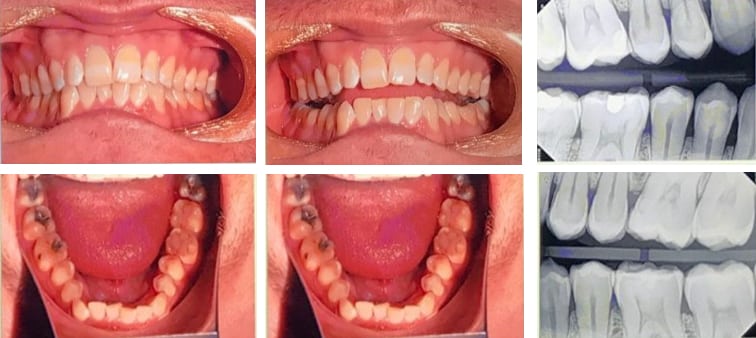 Why are dental check-up's important?
Having your teeth checked and cleaned regularly can offer many benefit's not only for your oral health but for whole body health as well. The benefits include:
Prevention of decay, cavities and replacement fillings
Did you know that your holes in teeth can be prevented or reversed by certain applications, medicaments or mouthwashes? Your Oral health practitioner will go through this when they have completed caries risk assessment. This means less holes, less fillings and replacement fillings; saving time and money in the chair.
This is the latest CAMBRA protocols where your dentist can screen you and give advice of what to do to reduce your decay risk, simple evidence based treatment that works. This can be as simple as coming to dentist every 3 months, monitoring cavities, dentist applied applications and change in home care habits.
Gum disease prevention
Plaque build-up on your teeth can cause gingivitis which is the start of early stages gum disease. Gingivitis untreated can advance to an acute stage of gum disease, periodontitis.
Enjoy a brighter smile
Visiting your dentist for a regular clean can assist to remove surface stains caused by daily life habits. Such as tea, coffee, wine, tobacco. Even some medications can cause discolouration on the tooth surface.
Better chance of keeping your own teeth
No one wants the chance of losing their teeth, but results have proven that poor oral hygiene can result in exactly that. Advanced gum disease destroys the bone as plaque moves further into the roots of your teeth. A consistent oral health routine with regular check-ups, daily brushing and flossing can help prevent this.
Prevent Halitosis (Bad breath)
The most common reason patients experience bad breath is from a build-up of bacteria that lives on the surface of your throat and tongue. This causes odorous volatile sulphur compounds (VSC) to be released from the back of your throat and tongue. To help prevent these bacteria build ups make sure you brush and floss daily between dentist visits.
Why choose Northshore Dental and Oral Health?
Northshore Dental and Oral Health sunshine coast believe in building and sustaining a lasting relationship with our patients and their families, making sure each individual will always feel welcome and comfortable and educated before, during and after an appointment.
At Northshore Dental and Oral Health, we offer emergency dental treatment and appointments 7 days a week. For any dental emergency please contact our helpline ph. 0439 715 963.
Dental check-up and clean on the Sunshine Coast
Achieving and maintaining healthy gums and teeth is fundamental to your wellbeing.
For more information around our general dentistry services or to book a consultation, please contact us today.