At Northshore Dental we see many patients who complain about their 'Gummy Smile'
For patients who have uneven gums, gum contouring is a minimally invasive cosmetic treatment that requires the soft tissue to be reshaped and excess gum tissue to be removed with the use of laser technology. The use of dental laser techniques can effectively enhance the appearance of your gums and create a more symmetrical appearance along the teeth. The procedure is virtually painless and the recovery is minimal.
What causes a gummy smile?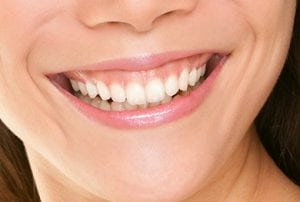 Gummy smile occurs when more gum tissue is exposed when you smile, this can be the result for a variety of reasons.
Most common sign is a short upper lip and excessive gum tissue appearance (this can make the teeth appear too short) all of which are genetic.
Many people who are concerned by this condition feel uneasy when they open their mouths to smile.
Is laser gum treatment necessary?
An excessive amount of gum tissue will not be the cause of any medical condition. You can ignore this problem and still be in fine health, although it can affect you physiologically.
As humans it is only natural for us to question how we look. Gum treatment is the only way to alter the excess or uneven appearance of the gum tissue.
What are the benefits of laser gum treatment?
Laser gum treatment offers a number of benefits regarding how the procedure is performed as well as the end result achieved. Benefits include:
Improved symmetry and balance between the gums and teeth.
Excess gum tissue reduction for a less 'gummy' smile.
Treatment is virtually painless.
Faster healing and recovery time.
Less swelling
Reduced bleeding
What is the laser gum treatment process?
The term 'gum reshaping' can sound a bit uncomfortable to most people. Our experienced team at Northshore Dental and Oral Health can help you reduce the appearance of a 'gummy smile' without surgery or delayed recovery times.
Your dentist at Northshore Dental will carefully and precisely guide a high-intensity laser along the gums trimming and reshaping the excess gum tissue for a more symmetrical appearance.
The laser gum procedure usually takes less than an hour and can be classed as a lunchtime procedure. Most patients are able to return to normal daily activity after treatment is complete.
The best way to know how these treatments will work on you is to book in to see our specialist staff for a detailed consultation, if you'd like to make an appointment please contact us today.
Northshore Dental and Oral Health makes smiling easy
Our team is committed to giving our patients affordable treatments with a range of easy, fast payment methods. Our practice has incorporated a range of payment plans including zipMoney MediPlan, GE Finance and also an in-house payment plan to ensure patients get high-class dental care when they need it.We also employ credit card facilities and have integrated a HICAPS machine meaning you get your private health rebate back on the spot, quickly and conveniently.