Your child's teeth are extremely important and without proper care and regular visits they are very susceptible to potential dental problems.
At Northshore Dental and Oral Health, we believe that high quality dental care is crucial for the whole family. You are never too young or too old to take care of your dental health. We offer Children's Dentistry to give your child the best chance at maintaining a healthy, happy smile for life.
When should children go to the dentist?
Your child's first visit to the dentist can either be daunting or exciting. We recommend bringing your child in for their first oral health assessment by the time they are approximately the age of three. Leaving it any later than the age of three could cause potential issues such as a tooth ache, or worse still dental decay.
When visiting Northshore Dental and Oral Health your child's first appointment will more than likely be a very simple one. We will meet you and your child and show you some simple tools to take care of their oral hygiene, like a small tooth brush or cotton bud! This is the perfect opportunity to ask any questions you may have about your child's teeth.
Why is Children's Dentistry Important?
Just like adults, it is important for your child's dental health to have regular check-up and cleans. We recommend visiting us every 6 months to ensure we keep your child's oral health in good condition and start proper oral hygiene habits early.
We believe that it is important to make sure all our patients are comfortable during their visit to our clinic so that they can learn not to be afraid of the dentist. We care for our patients and are here to answer any concerns and questions you may have.
What pain relief options are there for Children's Dentistry?
Treatment under general anaesthetic can be arranged at Buderim Private Hospital on Elsa Wilson Drive, Buderim. Click here to find out more.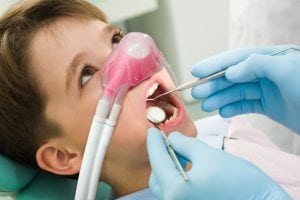 Happy gas sedation is ideal for children, this is a safe alternative to general anaesthetic and makes children's dentistry a dream with its relaxation properties.
What are the costs of Children's Dentistry?
The $1000 Medicare child dental benefits scheme is for children over 2 years of age. You can find out if your child is eligible for the child dental benefits scheme by visiting the Medicare website. Click here to find out more.
Children's Dentistry on the Sunshine Coast
Achieving and maintaining healthy gums and teeth is fundamental to your child's wellbeing. For more information around our children's dentistry services or to book a consultation, please contact us today.