Traditional metal braces are still the most used teeth straightening system and for one reason – they work
The technology behind traditional metal braces has progressed fast in the last couple of years, and now even better results can be achieved. As this treatment has been tried and tested, the technology has become much more affordable for families.
Today, metal braces can be the most cost-effective option to straighten your teeth. When compared to other systems, traditional metal braces can fix orthodontic problem like misaligned jaws, severely crooked teeth to an overbite or an underbite.
Traditional braces are the most commonly used braces at Northshore Dental and Oral Health in Pacific Paradise for their affordability, and the dramatic results they can achieve.
How do traditional metal braces work?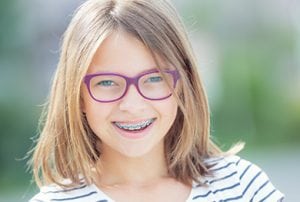 Traditional metal braces consist of a series of attachments, called brackets that are securely glued to the front of your teeth. A strong dental wire called an archwire is placed over the top into a small groove in the bracket and held in place by small elastic bands called o-rings.
This archwire acts as a guide for the teeth to move along and generates a powerful pulling force to move your teeth into their desired position.
How long will I have my braces on for?
The time a patient will be in treatment for will depend on a few factors including the severity of their orthodontic issues, and how old you are. Treatment time from Northshore Dental and Oral Health can range anywhere from around 6 months to 30 months.
The braces from Northshore Dental and Oral Health are more durable and stronger than days past and we can be now more flexible in allowing patients to chew gum – as long as it's sugar free.
Other chewing gum contains high amounts of sugar that will put patients at risk of a build-up of plaque around their brackets and wires, which is hard to remove. Research has also shown the chewing motion can stimulate bone growth surrounding the teeth, which may be beneficial.
If you have any questions regarding your braces, or how to care for them, contact the team at Northshore Dental and Oral Health today.
Cost shouldn't stop you from obtaining a straight smile. For all our services we offer a range of payment plans including zipMoney MediPlan, GE Finance and also an in-house payment plan. We also accept most major credit cards like MasterCard and Visa. We also have a HICAPS machine, so you can get your rebate back quickly, and easily.
Do you want to start the journey to a beautifully straight smile? Contact the experienced team at Northshore Dental and Oral Health today.