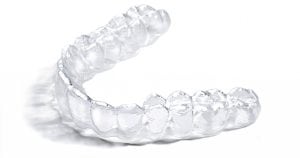 ClearCorrect originated in the United States and has now migrated to Australia to give Aussie patients another option to straighten their teeth discreetly
ClearCorrect aligners are made from a specialised, durable material called Zendura. This material is specifically designed for stress retention and are resistant to becoming deformed under biting pressure.
ClearCorrect straightens teeth by a series of clear, removable custom-made aligners. These aligners gradually move your teeth into the correct position to correct your smile.
When comparing ClearCorrect to other methods like Invisalign, ClearCorrect offers three individual options to straighten your smile.
Limited 6 – These aligners work to treat the full arch. This option is ideal for minor adjustments because it includes six sets of aligners.
Limited 12 – Provides a larger range of treatments as you receive 12 of these custom made aligners. Northshore Dental and Oral Health won't charge you an additional fee for revisions of the ClearCorrect aligner's midway through your treatment (as long as no more aligners are needed).
Unlimited – This option allows your dentist to work with as many aligners as needed until the desired orthodontic outcome is reached. This choice means you get an unlimited number of revisions over the space of three years. Your dentist can make adjustments and recalculations if your teeth change, or aren't on the right track.
What are the benefits of ClearCorrect?
ClearCorrect is one of the newer options of invisible braces and uses digital mapping and moulding technology. ClearCorrect consists of a smooth surface finish to prevent the aligners from clouding up.
Treatment time for orthodontic treatment with clear aligners is usually quicker than that of traditional braces. Clear aligners can straighten your teeth on average around 9 to 15 months compared to 35.92 months from traditional metal braces.
Other benefits of ClearCorrect invisible braces include:
It's virtually invisible so no one will notice you're wearing orthodontics
They are easily removed so you can eat, drink and clean them easily
ClearCorrect is ideal for patients who are allergic to metal
There is no metal wires or sharp edges to cause painful ulcers
Each set of aligners is custom made to your teeth making it more comfortable than traditional braces
Unfortunately, ClearCorrect aligners won't help everyone smile. The best way to know if you're a candidate for this effective and discreet teeth straightening option, is to book an appointment with our easy to use form here.
Age is not usually a limitation for orthodontic tooth movement.
Clear Correct aligners are suitable for patients of any age. Northshore Dental and Oral Health generally treat patients with Clear Correct as adults, as they are more concerned with not changing their lifestyle.
The costs of Clear Correct is now much more affordable than ever before. This treatment is usually covered by private insurance providers throughout Australia.
At Northshore Dental and Oral Health we offer payment plans so you can begin your journey to straight teeth now, not later.
Don't dwell on cost. For all our services we offer a range of payment plans including zipMoney MediPlan, GE Finance and also an in-house payment plan. We also accept most major credit cards like MasterCard and Visa. We also have a HICAPS machine, so you can get your rebate back quickly, and easily.
For more information on the innovative ClearCorrect aligners visit the ClearCorrect website or contact our friendly staff today to see if you're an ideal candidate for ClearCorrect.